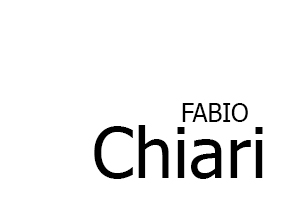 Fabio Chiari achieved his status as a professional luthier following a path very similar to that of the classical period luthiers; one morning he met the master luthier Paolo Vettori and asked him to be allowed to attend his workshop. After a few years with his violin (according to the terminology his "work of art") he underwent the admission exam of the Professional Italian Luthiers Association and was accepted.
Over the years he has therefore been registered with ALI, the Tuscan Luthiers Association, the Tuscan Luthiers of Today, and is currently registered as a founding member of ULIP (Union of Italian Professional Luthiers).
He has to his credit four self-produced books on the subject of research and the study of ancient lutherie and he has contributed with articles on the rediscovery of traditional woods in sector magazines and international circulation.
With his instruments he has participated in all the national and international exhibitions of violin making including Cremona, Perugia, Frankfurt, Shanghai, Montreal, Tokyo. Thanks to his instruments many musicians have obtained the first prize in Japan (violin) Taiwan (violin and viola).
He has reconstructed his own version of the mythical Lyra by Leonardo da Vinci, the instrument with which the Tuscan genius won the competition with the musicians of the court of the Moor of Milan and which according to Vasari was in the shape of a horse's skull decorated in silver. A large  television report was dedicated by Piero Angela for Superquark to this instrument.
At the moment his lifes production stands at about 180 violins, 35 violas, 50 cellos, ten double basses and a few dozen medieval musical instruments. He has participated since the early years of his apprenticeship in most conferences and meetings of the sector that take place on the national territory.
At the same time as the construction of the instruments he also carries on research and innovation: with his pupil Lapo Androsoni he patented a modification (the first after three hundred years of stasis) called Modification Theta, for the sound box of stringed instruments, and rediscovered and extracted in 2011 a forgotten resin, elm lacquer, which was mentioned in an eighteenth-century publication as the base resin of the paints of the lutherie of the Po Valley.
One of its goals in creating this school is to bring Tuscan violin making back to the forefront of the world, especially considering that the rediscoveries among the documents of the Medici collection of Florence provide proof of an exceptional number of violin makers from all over the world in Tuscany since the early 1500s.